AML: Comprehensive Money Laundering Defense
Unearth potential risks associated with your customers using state-of-the-art Anti-Money Laundering (AML) tools.
Guarding Against the Silent Threat: Money Laundering in Modern Finance
The financial landscape is fraught with hidden perils. Every transaction, every customer relationship brings with it the shadow of potential money laundering – a silent, pervasive threat that can undermine trust, inflict severe penalties, and tarnish reputations irrevocably.
Introducing AML Risk Screening by iComply. Transcending traditional measures, we provide businesses an astute, technologically advanced defense against money laundering. By meticulously cross-referencing against global sanctions, watchlists, and adverse media databases from industry stalwarts like OFAC, FATF, and HMT, we offer unparalleled assurance and peace of mind.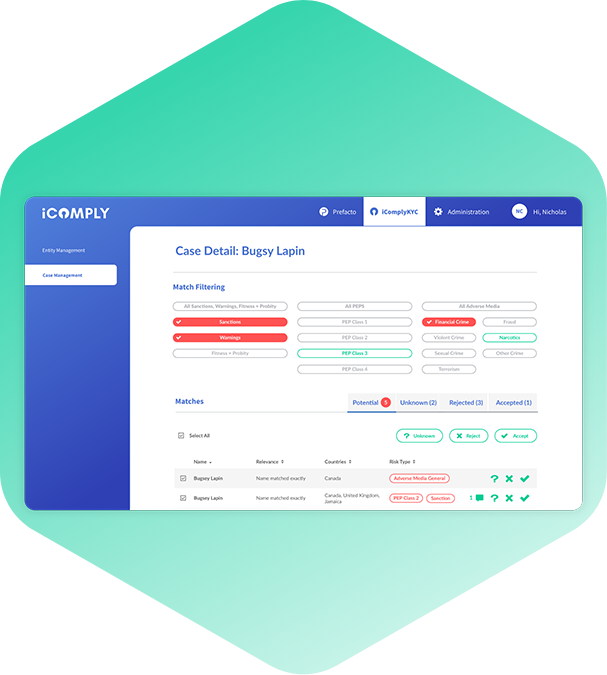 Why Choose iComplyKYC
™

for
AML Risk Screening
What Makes iComply's AML
Screening  Solution Stand Out?
Protect your business from AML compliance fines by understanding the risks associated with your customers.
Interactive User Interface
Navigate effortlessly with our easy-to-use platform.
Screening within Seconds
Quick and efficient screening for immediate results.
Access to Extensive Datasets
Utilize our access to 1700+ global databases for in-depth screening.
Enhanced Data Security
Rest assured with our top-notch data security measures.
Proof of Screening
Maintain comprehensive records with proof of each screening.
Fully Automated Monitoring
Keep up-to-date with our automated monitoring processes.
iComply's AML Solution Reduces False Positives By Utilising Multiple Ai Models
Our AML solution performs individual and business screening against global AML databases in real-time. We leverage advanced AI technologies and human intelligence to identify high-risk entities and deliver highly accurate results.
Looking to explore our other modules?
Getting Started With iComplyKYC
™
Begin your journey with us and elevate your AML risk screening process.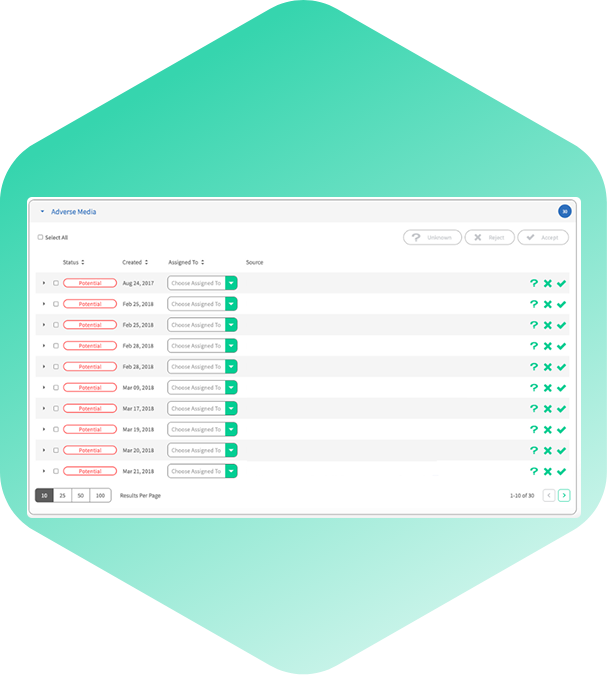 Don't take our word for it—see what
our satisfied clients have to say.

iComply allowed us to resume client onboarding and employee recruitment despite COVID lockdowns.
Ontario Provincial Police Credit Union, Toronto ON
Head of Operations

iComply automates over 80% of our compliance tasks and consolidated multiple vendors.
Alt 5 Sigma, New York NY
CEO

I love that we can adjust for regulatory changes or business needs without a big software build.
Stablecorp, Toronto ON
Head of Compliance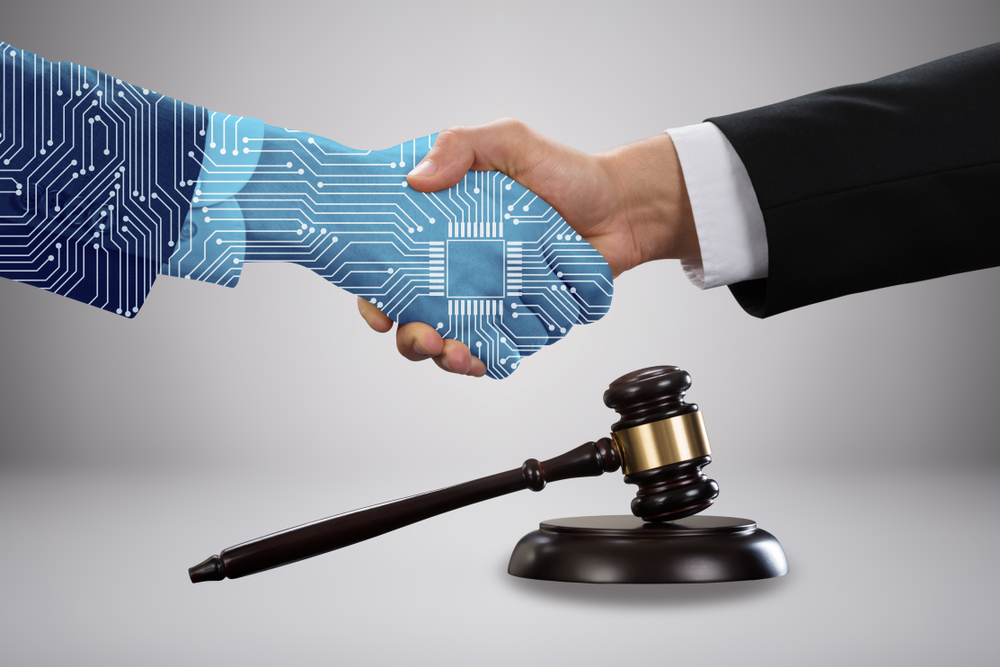 When we think of Know Your Customer (KYC) and AML protocols, most people tend to associate the terms (and practice)...
Ready to protect your business with iComply? Book a demo or sign up today.