Qayyum "Q" Rajan Latest Addition to iComplyICO Team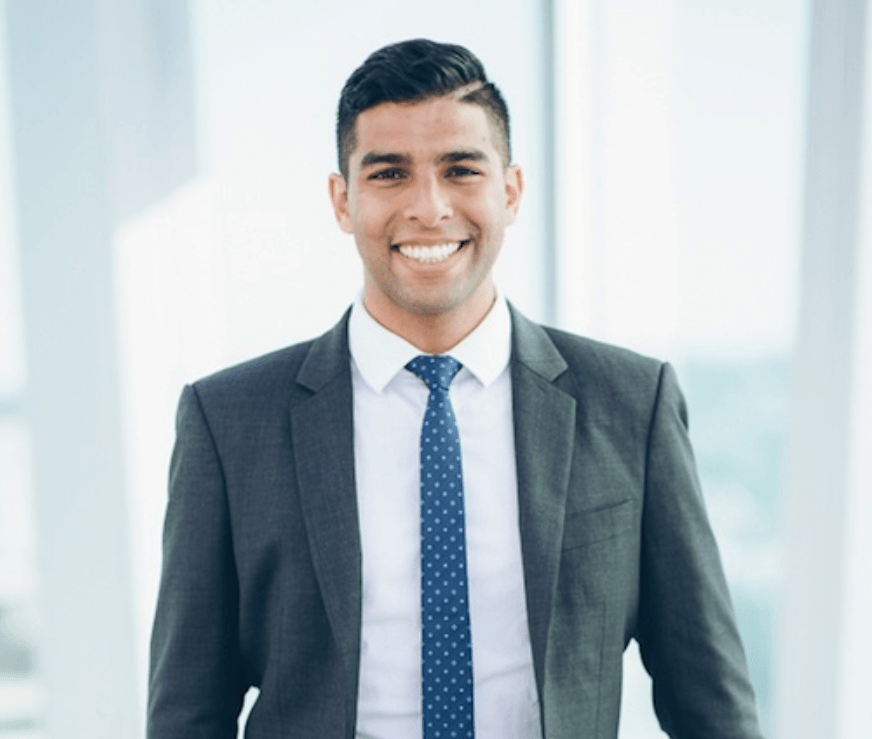 We are thrilled to announce that Qayyum Rajan has joined the powerhouse team at iComplyICO!
Qayyum Rajan, or Q as he is better known among friends and colleagues, was born in Vancouver and raised in Kenya. He returned to Vancouver when he was 13 years old.
His passion for the finance industry began early. "When I was 12 years old, I had saved all my money in order to open my own brokerage account to trade on the Nairobi Stock Exchange," says Rajan, adding that his parents had their own business for many years, so business as a whole felt natural for him.
After graduating with a finance degree from UBC at 20 years old, he immediately enrolled in the CFA program, where he is currently a CFA Level III Candidate.
Mixed Passions
But he wasn't solely interested in the world of finance. "Food and finance were my biggest passions," he insists when asked what he wanted to be when he grew up. "I had offers of acceptance for both culinary and business school, so at that point, I had to choose between these two big passions, and I figured finance overall made more sense."
While working for RBC Dominion Securities and Sentry Investments, he ended up teaching himself programming skills, particularly focusing on the field of data science. Blockchain was a natural progression, he said, as it applied to pretty much every single industry in the world today, especially from a financial point of view. Rajan dove straight in and hasn't resurfaced.
Blockchain Beginnings
And just how did he get started with iComplyICO? "Well, I met Zarah Tinholt at a CFA boot camp a while back, and we got talking for over two hours about fintech and the finance industry, and the role of blockchain. She invited me to this Fintech Happy Hour event, which is where I met Matthew Unger, and the conversation about blockchain got the ball rolling."
Soon after this networking event, the company that Rajan was working for announced they had been acquired, and he reached out to his CFA Instructor, Darren Degraaf, to bounce a couple of ideas around. "It just so happened that Matthew was looking to start a team to create a compliance platform, and Darren recommended I chat with Zarah, who put me in touch with Matthew! Over lunch, we discussed what that would look like….and it's taken off from there."
In his role as Product Manager for iComplyICO, Rajan is confident that he was a natural fit for the company from the start. "I love owning a product vision and being an integral part of how it takes shape. Things have moved very quickly for this project from day one, and it's immensely engaging to combine my finance background with the application of blockchain technology."
Educational Endeavours
Rajan has had the opportunity to educate many people on the nature and disruptive change of blockchain technology as a result of being involved with iComplyICO's platform. "A lot of people have seen and heard of Bitcoin, so it becomes more of an educational conversation about the power of blockchain and what you can do with it, as well as why it should be regulated, why China banned it until it's regulated, those sorts of things."
Rajan's passion for iComplyICO was highly evident as he shared his thoughts on the innovative role the company will play on the world stage. "This is revolutionary, we are mobilizing capital securely and with transparency. We're removing the barriers to entry and potential conflicts of interest that can sometimes follow large capital raises."
"More than anything," he continues, "it's amazing to see how easy it is to reach out to people, from industry leaders to developers to government officials."
As with any innovation-focused entrepreneur, Rajan is looking to the future of iComplyICO and the industry as a whole. "People will be able to raise capital for a project where they weren't able to before (for example, in certain real estate scenarios). This will be especially apparent in developing markets where they are literally skipping technological generations, and are primed to virally adopt blockchain applications."