In this upcoming MasterClass, Greg Pinn, 
Head of Product Strategy for iComply and Former Head of World-Check for Thomson-Reuters, 
speaks on the role of compliance in the decentralized financial markets. He'll walk through its best practices and the different approaches related to jurisdiction-based compliance.
Save Your Spot: Registration Limited to the First 500 Registrants
August 7: 10:00 AM – 11:00 AM PDT / 1:00 PM – 2:00 PM EDT
August 9: 2:00 PM – 3:00 PM PDT / 5:00 PM – 6:00 PM EDT
Key Learnings:
In this MasterClass, Greg breaks down why compliance matters and how the global market is in need of jurisdiction-based compliance for cryptocurrencies and tokenized assets in both centralized and decentralized models. Compliance is not a new need but a pressing one – events such as the 1993 World Trade Center bombing and the more recent, Russian Laundromat scheme are prime examples of why the need for compliance and anti-money laundering (AML) procedures exist.
Who is this MasterClass for?
ICO Issuers
Decentralized Exchanges
Compliance Leaders
ICO Consultants
While many argue that regulation stifles innovation, Greg explains that compliance actually enables innovation by protecting individuals that choose to participate in emerging industries. This is not only good from a moral and ethical standpoint but also from a material one. The emerging crypto market has faced an abundance of scrutiny under the public eye due to the emergence of a handful of bad actors; however, this does not paint a complete picture. There must be a balance between the free movement of value and protection of all individuals.
The "fundamentals" of compliance and how they are impacted by jurisdiction: This portion of the webinar will introduce new investors to compliance. This consists of concepts such as anti-money laundering (AML), Know Your Customer (KYC), Countering the Financing of Terrorism (CFT), Enhanced Due Diligence (EDD), Ultimate Beneficial Ownership (UBO) and Politically Exposed Persons (PEPs). These concepts are of major importance in both the traditional and decentralized financial markets and their implications can vary widely by jurisdiction.
The future of compliance: The final portion of the webinar will touch on the future of compliance, Greg considers the industry to be in a "renaissance" period. Costs associated with compliance for financial institutions are high and run parallel to the cost of employee turnover. Constant training and retraining are costly and inefficient. Thus, Greg predicts that the future of compliance is shifting to focus on decreasing the human costs associated with processes by enhancing these processes with technology such as artificial intelligence, machine learning, and automation.
About Greg Pinn
Greg Pinn has a decade of experience leading global best practices in anti-money laundering (AML) and know-your-customer (KYC) industry. Greg currently serves as head of product strategy for iComply and previously ran strategy for World-Check, the world leader in risk-based intelligence data.
Looking for financial grade KYC and AML in an enterprise ready API?

iComply offers global screening for humans, corporations, and blockchain transactions in a single REST API.
About iComply Investor Services Inc.
iComply Investor Services Inc. ("iComply") is a global compliance software provider that helps businesses reduce the cost and complexity of user authentication KYC and AML operations while providing a seamless experience to their users. iComplyKYC allows operations teams to centrally control how each KYC portal will securely gather, validate, and encrypt client data and documentation before it leaves their device. By partnering with multinational technology vendors such as Microsoft, DocuSign, Thomson Reuters, and Refinitiv, iComply is bringing compliance teams into the digital age. Learn more: www.icomplyis.com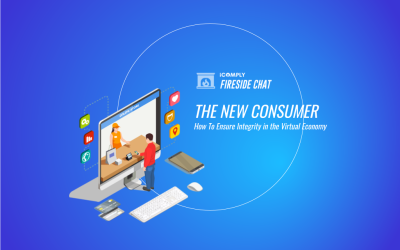 Join our live fireside chat to learn how proper compliance for consumers, vendors, and payment processors can foster stability in virtual marketplaces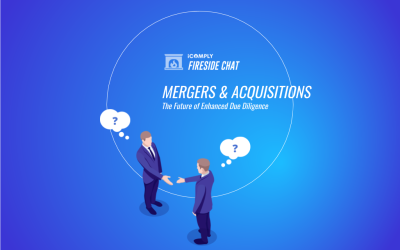 Join our latest live fireside chat to learn more about the most impactful trends in enhanced due diligence for merger and acquisition transactions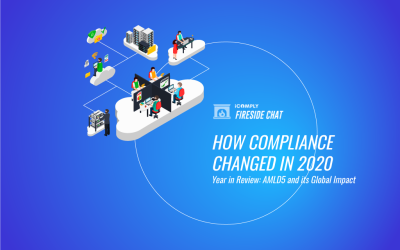 Join our latest live fireside chat to learn more about how the global impact of AMLD5 shifted the landscape of compliance in 2020