digital identity
Leading Intelligent Compliance Management solutions.
iComply for
Digital Identity Networks
Providing and operating a secure digital identity network requires the highest standards of integrity for identification and authentication procedures.
iComply provides a set of intelligent KYC and AML tools for digital identity networks to protect their business and ensure Strong Client Authentication (SCA) throughout the entire client lifecycle. 
Accredited Investor Networks
Digital Identity Platforms
Identity and Access Management Solutions
Self-Sovereign Identity Providers
Single Sign-On (SSO) Applications
Maintain
Easy, Cost-effective Due Diligence
Support identity documents from over 200 jurisdictions with our online identity verification services to better detect fraud and user errors
Screen your customers against the world's largest database of sanctions, watchlists, PEPs and adverse media
Reduce false positives and noise with the help of fuzzy matching and Levenshtein distance algorithms
Receive instant notifications when your customer's risk profile changes, months ahead of a periodic refresh, with our automated Daily Ongoing Monitoring feature
Onboard & Maintain
User Data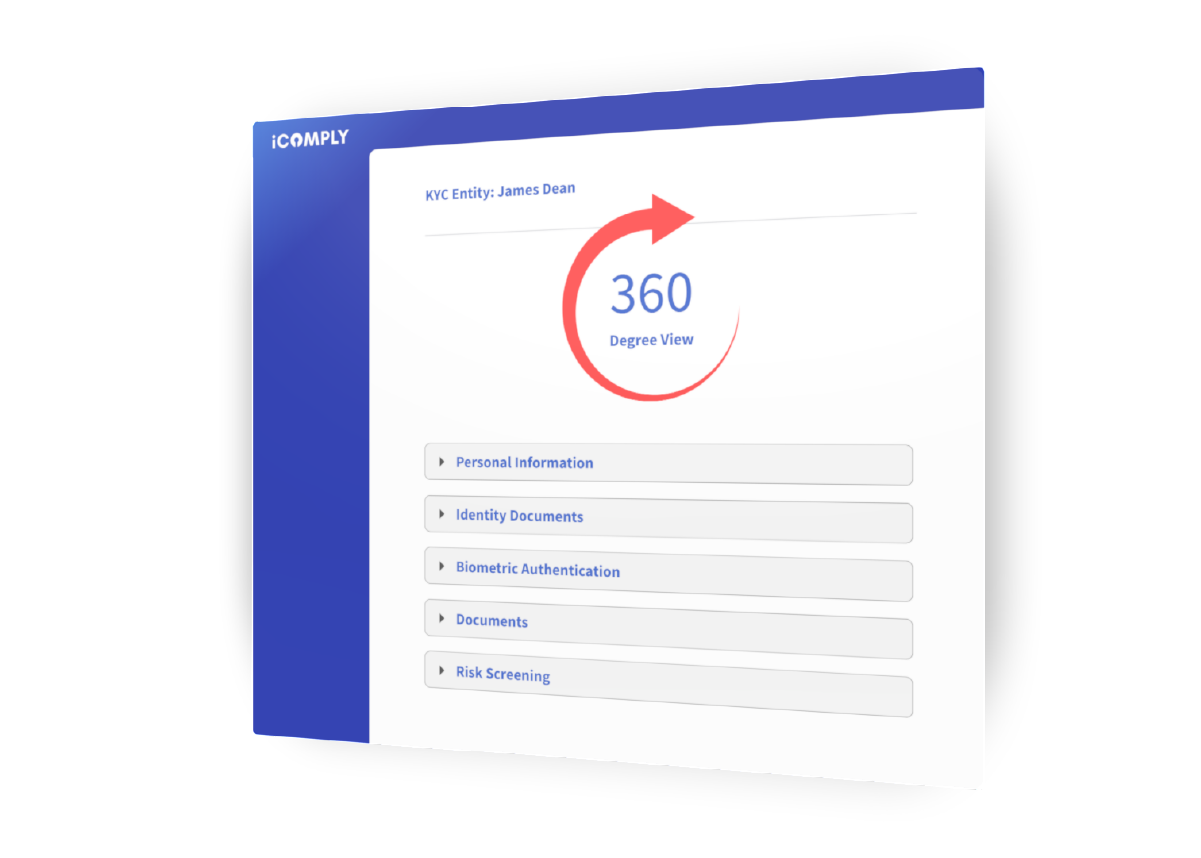 Verify clients in under 20 seconds via digitized client onboarding workflows to authenticate and verify documents, biometrics, and identities
Trigger KYC refresh requests and integrate your preferred applications via the iComply API or Widget push notifications
Segment your customer base and search profiles by relevant requirements with modular and jurisdictional scenarios 
Maintain 
a Cutting-edge Identity Stack
Create drag-and-drop widgets for easy and secure deployment into any website, client portal, or mobile application
Integrate Identity and Access Management (IAM) tools to trigger identity verification or biometric facial recognition workflows for your user in real-time
Stop fussing with API integrations and maintenance: iComply's RESTful APIs allow for quick and convenient customer onboarding
Eliminate the need for your users to download apps and deliver a true omni-channel online experience
Reduce the total cost of ownership (TCO) and time to launch with click-to-deploy compliance tools that securely handle your client's sensitive personal information