About
Multi-jurisdictional compliance automation to ensure authenticity, trust, and integrity in digital finance.

Overview
iComply Investor Services Inc. (iComply) is an award-winning software company focused on reducing regulatory friction in financial markets. With powerful data, verification, and blockchain interface solutions, iComply helps companies overcome the cost and complexity of multi-jurisdictional compliance to effectively access new markets.
iComply's patented PREFACTO™ technology automates compliance requirements for blockchain transactions in over 150 jurisdictions. Hedge funds, broker-dealers, exchanges, and digital asset issuers can all benefit from automating issuance, trading, and know-your-customer requirements. End-to-end management, control, and due diligence of investors reduces costs and incidence of human error while also providing access to global investors and liquidity in secondary markets.
The Challenge
Rapid growth in technology has produced new opportunities for capital markets, new financial instruments and access to capital. Traditional capital markets infrastructure can benefit by embracing new technologies and systems, but also is threatened by a new need for compliance and regulation measures to match these new opportunities.
The Solution
iComply brings the world of traditional capital markets and the innovative technologies closer together. Building on the strength of a reliable and trusted capital market we build, design and support technologies and platform that can reduce regulatory friction, improve accessibility to global capital. We provide clarity & confidence through our technologies.
Authenticity, Trust, and Integrity in Digital Finance.
Access to Truly Global Capital
Access to global capital is now possible when aided through decentralized financial markets. Prefacto™ is the first end-to-end platform for supporting both traditional & decentralized markets.
Built for Compliance from Day One
Trust, clarity & confidence are key to the successful access and distribution of global capital. Our Prefacto™ compliance engine brings global regulatory requirements to a variety of financial applications.
Enhance Existing Ecosystem
Both Prefacto™ and iComplyKYC are designed to support both emerging and existing traditional capital market applications. We bring the advantages of automation and decentralized technologies to benefit all global capital.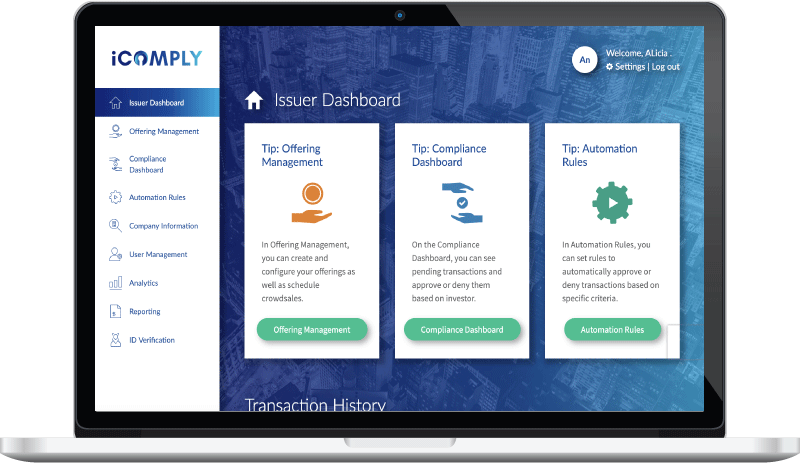 Smart Securities Infrastructure
Interested In Working With Us?